Super Mario Shines again as Giants spoil Cowboys Hope Opener, despite more Red Zone Woes.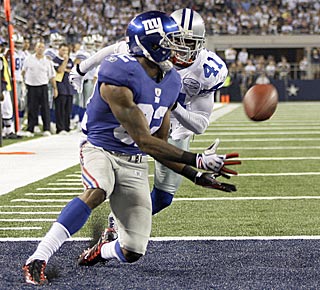 Manningham had 10 catches for 150 yards on Sunday night.



This is an excerpt from my post game blog last week following the Giants 23-17 win over the Redskins:

"Something happens to this team's offense once the field in front of them shortens to 60 feet or less...they rarely take that huge bite out of the opposition and gobble them up."

"... Coughlin and Offensive Coordinator Kevin Gilbride had better address this quickly. Without an established big-play wide receiver, they still lack that legitimate "knockout punch". If they continue to squander red zone opportunities to the tune of 6 points per three trips, they will continue to find themselves hanging on for dear life at the end of games in which they've clearly outplayed their opponent."

In light of the events that took place in the newly crowned Xanadu of sports mecca's - where New York was outgained in rushing by 154 yards and failed to score a touchdown in five Red Zone trips - I stand by that statement.

The brightest spot of the night was - no, not the ridiculously large HD TV dangling above the field - the continued emergence of WR Mario Manningham as Eli Manning's new #1 man. Manningham is showing terrific poise under pressure, and a keen sense of when he needs to break from the route and make himself available to bail out his QB. Between Manningham and Steve Smith (both of whom caught 10 balls in the contest - a first for any pair of Giants receivers in a single game in franchise history), Manning has found himself in a much better position than anyone would have expected at this early point of the season.

If head coach Tom Coughlin's "Green Zone" is more akin to a barren stretch of antarctic ice bed, then the area that lies between the opponent's 20-30 yard lines must be the "Hot Zone". It seems to be the only portion of the opposition's field where Eli can connect with receivers past the goal line - as proven by his 22-yard scoring strike to Manningham in the 2nd quarter, and his other 22-yarder to Smith in the 4th. In five trips inside the Dallas 20, Lawrence Tynes provided the only points with four field goals. He also provided a scare by missing a 29-yard chip shot to close the first drive of the 2nd half that would have put NY up by 6.

The Giants running game was practically non-existent, gaining all of 97 yards on 26 carries. The real spark plug was once again Ahmad Bradshaw, who didn't have quite as good a game as many have come to expect since taking over the #2 spot on the depth chart. The Dallas defense really clamped down on the line of scrimmage and was succesful in taking away the running game from the Giants, who's normally stout offensive line was unable to plow any openings for Brandon Jacobs. Bradshaw's ability to deak oncoming defenders out of the backfield provided a much needed boost at times (more often than not creating 'something' out of 'nothng'), but it was Dallas' Marion Barber and Felix Jones who dominated the ground game.

The Cowboys offensive line was able to stave off the front four of the Giants, and with the quick & elusive team of Barber and Jones running their counter attacks all night, linebackers Michael Boley (the former Atlanta Falcon making hs first start with the Giants), Antonio Pierce and Chase Blackburn had all they could handle just trying to keep up with them. In addition to the phenomenal run blocking, the Dallas O-Line provided plenty of time & protection to QB Tony Romo, who did everything he could to hand this one to his opponents by throwing two inexcusable interceptions - one that landed right in the cradle of rookie CB Bruce Johnson that went 37-yards the other direction for a touchdown. In fairness to Romo (something I never imagined I'd say), LB Antonio Pierce showed a little veteran savvy just before Romo took the snap by recognizing the play and calling an audible to pull his secondary off the line to drop back into pass coverage.

An ugly duckling...
Dallas lineman Flozell Adams tripped up Giants DE Justin Tuck in the 3rd quarter as Tuck made a bee line for Tony Romo deep in Dallas territory. While no one can fault Adams for wanting to protect his QB, the trip resulted in Tuck spending the rest of the game in an arm sling - watching from the sidelines. Initial x-rays were negative, and hopefully further tests this week don't reveal any damage. Adams actions could be tolerated for this one instance, but he tried the same thing later in the game on Osi Umenyiora, who was only playing in his second game since missing all of last season.

... graceful as a swan.
Mario manningham had another terrific TD catch: as he curled around behind CB Terence Newman, he bobbled Manning's pass as he fell backward in the end zone. Manningam had the wherewithal to keep his eye on the ball and reign it in while on his back to secure the score. And a less than 100% Kenny Phillips also proved to be as sharp as a tack with a heads-up play of his own, when an incomplete pass to TE Jason Witten bounced of his heel as he kicked up happened to bounce right into Phillip's gut before hitting the ground. Phillips was not awarded the TD he thought he'd scored, but the Giants did retain possesion upon review.