Defense Stifles Campbell & Company 23-17; Some "Ware" & Tear, "Nicks" & Cuts Suffered.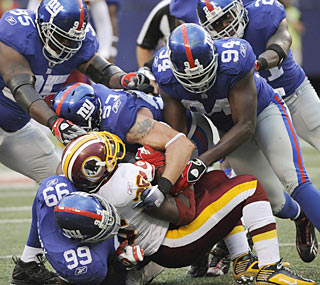 The Giants took the season opener at the Meadowlands on Sunday with a 23-17 victory over division rival Washington. In typical fashion - in what appears to be their M.O. when facing the Redskins - they did just as much as they needed to for the win. Nothing more, and nothing less. For all intents and purposes, this game should have been a blowout. The Giants dominated the clock and their offense moved the ball at will... that is until they reached the "green zone" as Tom Coughlin refers to it.

Eli was 'Eli' - sharp as a knife in most situations, while thick as a brick in others. As we've come to expect, Eli threw the occasional ill-advised pass that can leave you scratching your head; for the record, Manning had two of those moments today, and luckily only one of them was intercepted. The beefed up Redskins pass rush - complete with newly acquired $100 million-dollar monstrosity Albert Haynesworth - definitely made their presence known as Eli took a number of shots in the backfield that he will be feeling in the morning. Manning managed to connect with 7 different receivers, which you should try to get used to since you'll be seeing a lot more of that approach to "spreading the wealth" this season.

The running game sputtered at times, but on the whole it did it's job. Brandon Jacobs appeared to injure himself in the first quarter when he took a pass over the middle and was caught by surprise as he turned up the field, where he was stopped dead in his tracks after being absolutely hammered by LB London Fletcher. Jacobs sprang up quickly, but was attended to by team trainers shortly thereafter (they seemed to be looking at his wrist). He didn't miss any time, but he never quite seemed the same after that. Ahmad Bradshaw led the way in rushing yards, and really gave the Washington defense fits at times with his "start-stop-start" motion and agility out of the backfield.

The most significant occurences in this game were the loss of two potentially key offensive contributors. Danny Ware - the newly annointed "Fire" in the "Earth, Wind & Fire" trio of running backs was lost for the day right out of the gate when he dislocated his left elbow on the opening kickoff. In the 4th quarter, rookie WR Hakeen Nicks caught a 7-yard pass but had his left ankle rolled on by - you guessed it - London Fletcher during the takedown. Nicks emerged from the tunnels later in the quarter wearng a boot to reports of a sprained ankle. X-Rays were negative, but Nicks will have an MRI this week to check for damage to the tendons or ligaments in what could be an awful blow to this offense should he miss any significant amount of time.


The more things change...

While Steve Smith led the team with 80 receiving yards and a stellar over-the-middle grab in the 4th quarter, it was WR Mario Manningham who opened some eyes today by showing flashes of being that big-play threat we though he was when he was drafted out of Michigan two years ago.

His 30-yard touchdown catch along the sidelines in the 2nd quarter not only displayed his ability to remain focused in tight coverage, but it showed his awareness of where his feet are as he danced along the white stripe in spinning away from CB DeAngelo Hall and side stepping the incoming safety LaRon Landry before sprinting towards the end zone. While there's a long season ahead - and a lot of experience to be gained - Manningham seems comfortable in the offense, and appears one hundred-percent healthy.



...the more they stay the same.

Offensively, New York had four possessions inside the Washington 20-yard line in today's game; they came away with two Lawrence Tynes field goals and a turnover on downs on a failed 4th & 1 attempt from the 3-yard line.

Something happens to this team's offense once the field in front of them shortens to 60 feet or less; they begin to play "small ball" if there is such a thing in the NFL. I don't know if that's an appropriate use of the term, but it seems to apply to perfectly to the Giants mentality and approach to reaching the end zone once they hit the 20 yard line. Nibble off a few yards here, shave a little yardage off there - but they rarely take that huge bite out of the opposition and gobble them up.

This is something the Giants had struggled with all of last season, and Coughlin and Offensive Coordinator Kevin Gilbride had better address quickly. Without an established big-play wide receiver, they still lack that legitimate "knockout punch". If they continue to squander red zone opportunities to the tune of 6 points per three trips, they will continue to find themselves hanging on for dear life at the end of games in which they've clearly outplayed their opponent.

Defensively, the run defense was solid as always. Osi Umenyiora was certainly a sight for sore eyes. In his first game since suffering a knee injury (and the surgery that followed) during the preseason game against the Jets last year, he batted the ball out of the hands of Redskins QB Jason Campbell in the 2nd quarter - then scooped it up and bolted 37-yards for the score.

Without the services of cornerbacks Aaron Ross and Kevin Dockery, the secondary looked very thin. With the exception of the stellar job Corey Webster did covering WR Santana Moss, there was plenty of room for the Redskin receivers to gain chunks of yards after the catch. Newly acquired safety C.C. Brown did not look good out there; he's either still learning his role in the secondary or he's just that noticeable a dropoff from starters Kenny Phillips & Michael Johnson. Either way, he showed very little in preseason and needs to step up his game.